While dog daycare becomes more popular every day, there are still many dog owners who think dog daycare is merely another ridiculous extravagance for wealthy people to lavish on their favourite pet, falling in the same category as birthday parties and designer collars. However, dog daycare can be an affordable option that can significantly improve your dog's quality of life (and to a lesser exent your own) with merely a few visits a month.
Dogs, by nature, are social animals and most do not like to be left alone for any period of time. Think of how happy your dog is to see you when you come home. While exercise is a significant benefit of dog daycare, it's the socialization factor that truly benefits the dog. The opportunity to play with other dogs, even if it only comes twice a month will be something your dog will eagerly look forward to.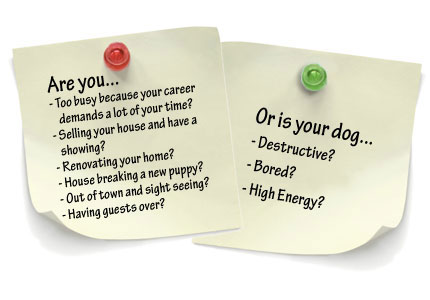 THEN A DOG DAYCARE IS FOR YOU!
The Dog House is here to take the pressure off of owners when it comes to the daily requirements of their dog(s)…So relax and create special moments between you, your family and your dog!
What daycare means for your dog is socializing, exercising, training and fun, fun, fun!
What this means for owners is what is left; a well behaved, tired dog to spend some quality one on one time with.
With quick, immediate access to the Queensway and other major routes, sending your dog to daycare is a breeze.
You can trust The Dog House in providing a safe and secure environment. The back yard is fully fenced and secured from top to bottom. All walks are leashed.
Inside the house, there are multiple flow gates to ensure all dogs are secure from the main entrance. There are rooms with big, comfy beds to have a break from all of the fun. If you are too little, we have a special room just for you!
Throughout the day, endless water bowls, toys and inside/outside play.